The night is getting a bit mature. It's completely abysmal out... so I want to pick people's brains and find some new stuff to read in the process. Two questions:

1 - What are you reading?

2 - What's next on the list?




My answer...
1 — Currently reading: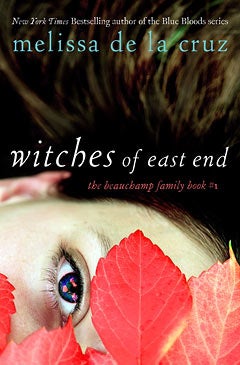 Synopsis (for those who haven't seen the show): "The three Beauchamp women—Joanna and her daughters Freya and Ingrid—live in North Hampton, out on the tip of Long Island. Their beautiful, mist-shrouded town seems almost stuck in time, and all three women lead seemingly quiet, uneventful existences. But they are harboring a mighty secret—they are powerful witches banned from using their magic. Joanna can resurrect people from the dead and heal the most serious of injuries. Ingrid, her bookish daughter, has the ability to predict the future and weave knots that can solve anything from infertility to infidelity. And finally, there's Freya, the wild child, who has a charm or a potion that can cure most any heartache.
For centuries, all three women have been forced to suppress their abilities. But then Freya, who is about to get married to the wealthy and mysterious Bran Gardiner, finds that her increasingly complicated romantic life makes it more difficult than ever to hide her secret. Soon Ingrid and Joanna confront similar dilemmas, and the Beauchamp women realize they can no longer conceal their true selves. They unearth their wands from the attic, dust off their broomsticks, and begin casting spells on the townspeople. It all seems like a bit of good-natured, innocent magic, but then mysterious, violent attacks begin to plague the town. When a young girl disappears over the Fourth of July weekend, they realize it's time to uncover who and what dark forces are working against them."


If you think the show is ridiculous, oh boy! I am only half-way in and I still don't get what is really going on or who the main characters really are or why they are living in the Hamptons.
2 - Next on my list:
Synopsis: "Strikingly original in its conception, ambitious in scope, with characters engrossingly and vividly drawn, the first book in R. Scott Bakker's Prince of Nothing series creates a remarkable world from whole cloth-its language and classes of people, its cities, religions, mysteries, taboos, and rituals-the kind of all-embracing universe Tolkien and Herbert created unforgettably in the epic fantasies The Lord of the Rings and Dune. It's a world scarred by an apocalyptic past, evoking a time both two thousand years past and two thousand years into the future, as untold thousands gather for a crusade. Among them, two men and two women are ensnared by a mysterious traveler, Anasûrimbor Kellhus-part warrior, part philosopher, part sorcerous, charismatic presence-from lands long thought dead. The Darkness That Comes Before is a history of this great holy war, and like all histories, the survivors write its conclusion." I AM SO EXCITED!!

What're you guys reading?